These three posters about Healing Touch with veterans have been presented at Healing Touch Program conferences and are available to download. Click on the poster to download it.
Seeding Healing Touch in VISN 12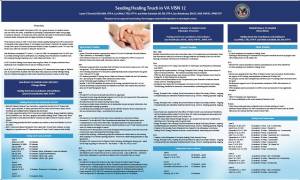 Overview: The VA Great Lakes Health Care System (VISN 12), a group of seven VA medical centers and over thirty VA clinics, is dedicated to providing a comprehensive health care package to America's veterans. VA Great Lakes serves veterans who reside in northwestern Indiana, northern Illinois, Wisconsin and the Upper Peninsula of Michigan. Three medical centers in VISN 12 have been actively seeding Healing Touch (HT): Jesse Brown VA Medical Center, Edward Hines, Jr. VA Hospital and Clement J. Zablocki VA Medical Center. In 2011 the first Healing Touch classes were taught at Hines VA Hospital and three Hines employees have completed Level 4 and are working on Level 5. As of 2014 17 HT classes have been taught at Hines, 5 HT classes have been taught at Zablocki and 12 at Jesse Brown. Students who have taken these classes are actively offering Healing Touch to Veterans through pain clinics, fairs, Stand Downs and in a variety of other ways.