ICP Support
Integrative Healthcare Program description goes here:
Poster Presentations of Healing Touch with Veterans
These three posters about Healing Touch with veterans have been presented at Healing Touch Program conferences and are available to download. Click on the poster to download it.
Seeding Healing Touch in VISN 12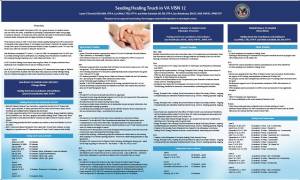 Overview: The VA Great Lakes Health Care System (VISN 12), a group of seven VA medical centers and over thirty VA clinics, is dedicated to providing a comprehensive health care package to America's veterans. VA Great Lakes serves veterans who reside in northwestern Indiana, northern Illinois, Wisconsin and the Upper Peninsula of Michigan. Three medical centers in VISN 12 have been actively seeding Healing Touch (HT): Jesse Brown VA Medical Center, Edward Hines, Jr. VA Hospital and Clement J. Zablocki VA Medical Center. In 2011 the first Healing Touch classes were taught at Hines VA Hospital and three Hines employees have completed Level 4 and are working on Level 5. As of 2014 17 HT classes have been taught at Hines, 5 HT classes have been taught at Zablocki and 12 at Jesse Brown. Students who have taken these classes are actively offering Healing Touch to Veterans through pain clinics, fairs, Stand Downs and in a variety of other ways.
Healing Touch for VA Patients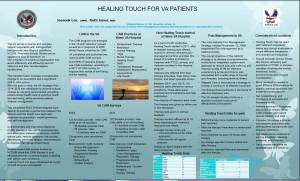 Introduction: The VA serves a diverse and complex Veteran population with distinguished backgrounds and physical. In 2008, President Barack Obama set an aggressive goal to transform VA into a modern 21st century organization that would effectively and efficiently care for Veterans and their families/eligible beneficiaries. This transformation involved a fundamental change to VA operations and a significant shift in VA's culture. With the goal in mind, the VA Strategic Plan 2014-2020 was developed to achieve cultural change by applying personalized, proactive, patient driven health care to optimize health and well-being, while providing optimal disease management.
Healing Veterans with the Art of Healing Touch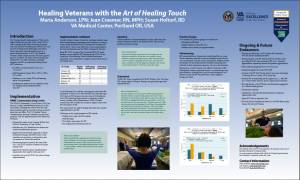 Introduction: The Veterans Health Administration (VHA) is the largest health care provider in the world. In 2011 VHA established the Office of Patient Centered Care and Cultural Transformation (OPCC-CT) with the aim of changing the philosophy and culture from a physician centered model of care to a patient centered model. In 2013 The Portland Veterans Affairs Medical Center (PVAMC) participated in an OPCC-CT grant which funded partial salaries for 3 VA staff, a dietitian, recreation therapist, and RN, to coordinate Healing Touch endeavors.